Enjoy the countless facilities at the Resort, also close proximity to Wollongong CBD, Supermarkets, Shopping, Wollongong Hosptal and University.
You set out to achieve a few things on your weekends away, whether it is to do absolutely nothing, read that book, see that film or catch that perfect wave.
Take it as fast or as slow as you like. You set out to achieve a few things on your weekends away, whether it is to do absolutely nothing, read that book, see that film, catch that perfect wave or enjoy the local attractions, you know it's all here at Wollongong Surf Leisure Resort.
Modern beautifully maintained playground equipment - the children will love it
On site bicycle hire – Wollongong's main 26km bike track runs through the Resort. There is a bike hire service on site. Single hour hire at $12. Lower hourly rates for longer hires. Helmet and bike chain included.
LCD Screens with HDMI ports – spend some screen time in.
2 heated spa pools and steam room – for time out to relax. Included in cost of pool use where applicable.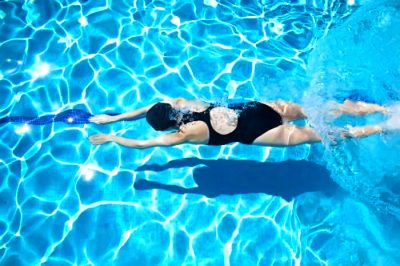 Upgrade in Progress: Tennis and Basketball Courts are being renovated during October - November 2022 and are closed, expecting to re-open in December 2022, apologies for any inconvenience caused.
25 metre heated indoor pool –heated and bathed in natural light through our new translucent roof. We think it looks AMAZING!! During school terms, kids learn to swim classes use our pool mid week morning and afternoon & Saturday morning.
Check with the office for exact times of pool availability. No charge for use by guests and residents for basic pool use (special classes are charged).
Locals may purchase a $140 for an annual pass for 20 visits. A family pass is also available.
Aquarobics - Join in! Classes in school terms are usually on:
Thursday: 8-9am
Friday: 8-9am.
Ring our reception if you would like to make sure before coming down. Pensioner Rate = $110 for 20 classes.
Mini golf complex – the fun side of golf. $5 per child, $10 per Adult. Reduced price for guests and residents of $3 per person per game. Check out how to get a hole in one! (You might need to turn down the sound on your pc a little before you watch this.) http://www.youtube.com/watch?v=2dLYiY44kcw
Or try this for tricky!
http://www.youtube.com/watch?v=6_aYJPCldo0
Basketball Half Courts - fun for everyone. Check your check-in vouchers for your free game.

Tennis Court - be one of the first to try out our new asphalt tennis court surface.
Table tennis - an action packed game between friends. Available for guests and residents. No charge to play, but we charge 25 cents per ball.
30 acres of carefully tended lawns and landscaped gardens fronting one of Australia's greatest stretches of surfing beaches.
Wifi - yes your "Screenagers" will be able to keep up with friends on Facebook with our very affordable wifi.
Beach Cricket Sets, Beach Soccer Balls, Beach Bucket and Spade Sets: all available to our guests from our shop.

Beach Volleyball: Groups can hire our beach volleyball kit to take to the beach for your own high stakes grudge match.