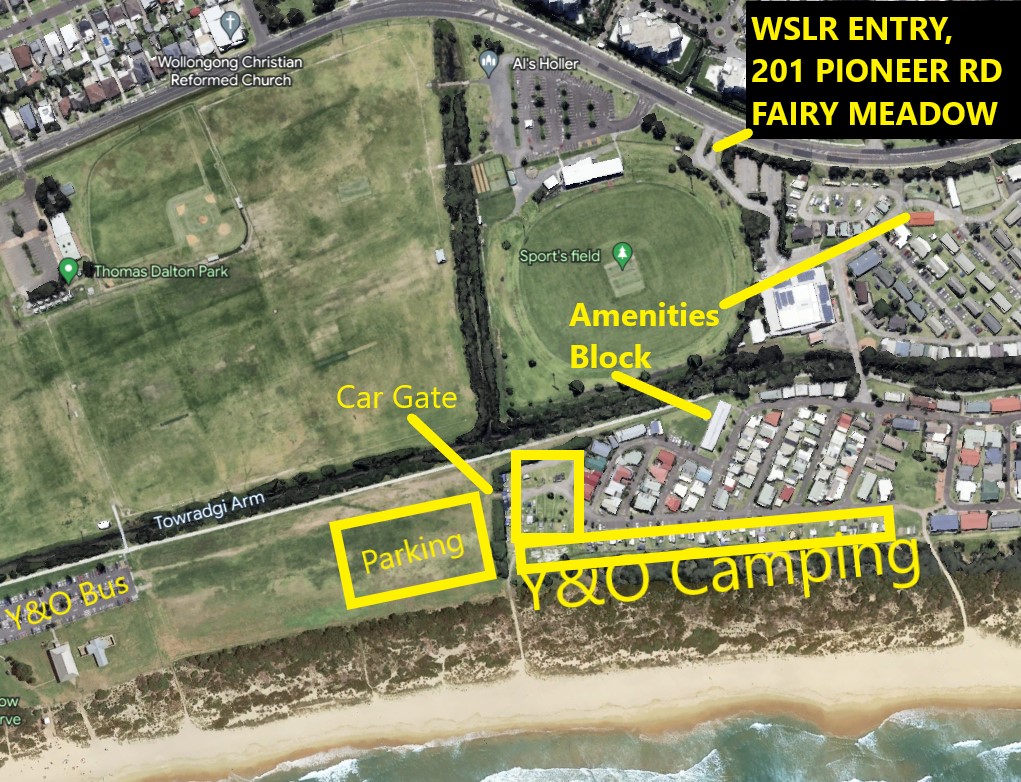 Y&O CAMPING
Camping for the Yours and Owls Festival 2023 is located on Fairy Meadow beach at Wollongong Surf Leisure Resort, 201 Pioneer Road, Fairy Meadow (https://goo.gl/maps/tX1Du2Qtax6ViPQC9 ).
It is 5kms from the festival and is not walking distance. A free shuttle bus will run between the campsite (from the Fairy Meadow Surf Club Car Park, which is 500m south of the campsite) and the festival site (UOW) between 11am and 12am on Saturday 14th October and between 11am an 11pm on Sunday 15th October.
Each camping pass provides camping access for ONE PERSON ONLY on the nights of Friday 13th Saturday 14th and Sunday 15h October 2023.
Check in: Friday 13th October between 12pm and 11pm and Saturday 14th October from 8am.
Check out: Monday 16th October between 6:30am and 11am.
It is TENT ONLY accommodation and all sites are unpowered. Car parking is located away from tents and the carpark will be open between 8am and 12 pm on Saturday and Sunday and all-day Friday and Monday. You will only be able to park in the camping area when you are unloading and packing up. You will have access to walk to your parked car from your tent throughout the weekend.
Terms and Conditions of a Camping Ticket
"Wollongong Surf Leisure Resort Campground" (WSLR) or "Yours and Owls" or event (and references to "we, us or our, the organisers" and similar expressions) includes Yours and Owls Pty Ltd. and all its staff and contractor
"You" means anyone entering or using this campsite/site/property/land.
You must have a valid campground ticket, reservation or official event accreditation to enter the campsite.
You must not bring in any items listed under prohibited items.
If conditions of entry and prohibited items are not adhered to you may be refused entry to the campground or evicted from the site with no refund issued. Illegal items may be confiscated. and charges may apply.
We reserve the right to refuse entry or reject patrons from the site at our sole discretion.
You shall be responsible for the safety and security of all your belongings brought into the site. Yours & Owls and WSLR accepts no responsibility for any loss, damage or theft of or to your possessions or site entering or at the campsite
WSLR and Yours and Owls does not take responsibility for any items left behind.
Check in will be between 12pm-11pm Friday, and from 8am - 12pm on Saturday.
Check out will be between 6:30am -11am Monday.
All campers and vehicles must exit the site by 11am Monday 16th October 2023.
Quiet hours are from 10:00pm until 8:00 am each night. Please respect your fellow campers and the grounds residents by keeping noise levels to a minimum during these hours.
If staying as a group, you must arrive together OR if arriving later than most of the group, give pre-written notice to the campgrounds at least 48 hours in advance of who you will be staying with. WSLR will let you know if they can accommodate your request.
TENT ONLY accommodation. NO CAMPER VANS, NO ROOF TOP TENTS, NO TRAILERS, NO CARAVANS
ALL SITES are considered unpowered.
Maximum of 12 persons per full size site permitted (sites are shared and split into 2 person sized tent spaces) .
Be respectful of fellow campers, staff and residents and look out for each other.
People on the site must consent to their contact details (name and mobile) being provided to others who will be staying on the same site, in order to comply with Wollongong City Council's rules.
By entering the Campsite, you agree to be filmed or photographed which may be used for marketing or promotional purposes.
No campfires and open flames are permitted within WSLR or surrounding areas for safety reasons.
No animals permitted anywhere on WSLR sites (excluding guide dogs or medically authorised assistance dogs).
All rubbish must be removed from your site and placed in bins provided. Dumping of waste, including grey water and black water, is strictly prohibited.
Please keep our grounds clean! Take home what you bring with you.
Glass bottles are not to be taken into amenity blocks due to the safety risks of broken glass.
Intoxication and drug use will not be tolerated
Please do not urinated in gardens, residents' spaces or anywhere other than the provided toilets!
Smoking is not permitted within 4 metres of a food consumption area and 10 metres of the food stall.
Smoking is not permitted in any of the campground's buildings, including medical areas, restrooms and shower facilities.
If you are experiencing symptoms relating to COVID-19, please be responsible and do not attend the festival or campsite.
Anyone found to be breaking conditions of entry inside or outside the site or anyone exhibiting behaviour deemed to be antisocial, nuisance, disruptive or dangerous by Campground staff will be refused entry and/or may be immediately removed from the Campsite without refund.
WSLR Management may evict a camper if management deems that the camper presents a safety risk to other people with in WSLR, or if the camper damages property or interferes with, or cause or permit interference with the safety, reasonable peace, comfort or privacy of any person lawfully within WSLR, or if the camper refuses to follow directions of WSLR management.
Patrons may be required to present photo ID as proof of ID/age and verification of ticket ownership to receive an official Camping wristband and may be requested to show ID upon request within the Campsite. Accepted forms of ID are Government issued photo identification i.e Drivers License, NSW Photo Card, Current Passport.
Persons known to police may be excluded from the site.
10kmph speed limit and NSW road rules apply within WSLR
All vehicles MUST be parked to the south of the camping area in the grassed area adjoining the WSLR property. Vehicles are only permitted at the campsite for unloading and loading purposes.
No unauthorised or illegal vehicles, including those with expired tags or without proper registration, are allowed to park in the carpark.
The speed limit within the campground is 10 km/h. Please drive slowly and watch for pedestrians, children, and wildlife.
Guests must adhere to all posted signs and any verbal instructions from Campground staff.
Campers are responsible for the safety and security of their vehicle and its contents. Yours and Owls are not responsible for any loss or damage to vehicles or personal property on site.
No vehicle ins/outs. No saving spots for friends. Campers must arrive together to camp together.
Once parked, your car stays in your spot for the duration of your stay, and is not permitted to move or leave the grounds until 8am Monday 16th October 2023 .
No riding of bicycles or scooters without a helmet
It is the responsibility of all guests to stay informed of any changes to the conditions of entry and to abide by them. Failure to comply with any updated conditions of entry may result in removal from the premises without refund.
Thank you for your cooperation in keeping our campground safe and enjoyable for all guests.
If you have any queries regarding camping, please contact the Wollongong Surf Leisure Resort directly - https://www.wslr.com.au/
CAMPGROUND PROHIBITED ITEMS
The organisers and campground reserve the right to refuse entry to people carrying any of the items listed below
You must follow all direction as given by the campground and their staff
The following restricted or prohibited items are not permitted by patrons into the event:
Illicit drugs and drug paraphernalia.
Illegal items may be confiscated and charges may apply.
Anything that may reasonably be considered a weapon, including potential missiles or studded belts.
Animals (other than registered guide dogs).
Campfires, open flames, fuels, flares, fireworks or sparklers.
Lasers or laser pointers.
Chainsaws, axes, or other tools that may be harmful or damage trees or wildlife.
Generators.
Fuel-powered vehicles or motorised ATVs, except for registered cars and campervans.
Loud machinery or equipment that would disturb other campers.
Any items or materials that may be hazardous or pose a risk to the environment or wildlife.
Professional recording or broadcast devices without our permission.
Any item that you intend (or such quantities of the item from which management can reasonably infer that you intend) to distribute, hawk, sell, offer, expose for sale or display for marketing or promotional purposes.
Any other items as determined by camp staff, security or management that may cause injury or public nuisance.
Any item that may be considered offensive or inappropriate, such as profanity, nudity, or hate symbol.
We reserve the right to prohibit any item that may be deemed unsafe, disruptive, or inappropriate for the campground.
We reserve the right to change the conditions of entry at any time in order to ensure the safety and enjoyment of all guests. Any changes will be communicated to guests as soon as possible through our website, social media, or other means of communication.
It is the responsibility of all guests to stay informed of any changes to the conditions of entry and to abide by them. Failure to comply with any updated conditions of entry may result in removal from the premises without refund.
Thank you for your cooperation in keeping our campground safe and enjoyable for all guests.
CAMPSITE PARKING
You will not be allowed to park your car at your campsite. Parking will be available just outside of the Wollongong Surf Leisure Resort. All campers will need to drop off their tents etc and then move car to the car park outside of the premises.
You will be able to walk to your car at all times. You will only be allowed to drive your car through the camping area during the hours of 8am – 11am each day, and you will need to arrive/depart through the WSLR main entrance. (if you do not have your car back in before the 11am cut off, you will need to find alternative parking outside the WSLR). On Monday, we will open the southern gates at 6:30am for the convenience of people who need to leave early.
FREE SHUTTLE
BUS
Yours and Owls will be putting on a free shuttle bus service from the festival site (UoW) to Fairy Meadow Surf Club Car Park, which is approx 500m south of the campsite.
Timetables for the Gong free shuttle are also available Here
Stay safe and have a great Yours & Owls 2023!